Blog post by Matthew Rudolph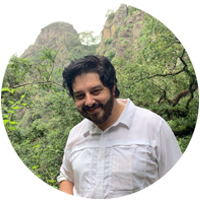 For being a relatively small school nestled in the hustle and bustle of New York City, Hunter College has some unique benefits. Within the Psychology Department is the Animal Behavior and Conservation program. To be perfectly honest I found the Comparative Cognition for Conservation lab when planning my graduate studies and then was exposed to Hunter College. The current "crown-jewel" of my degree was the rare ability to travel to Thailand and broaden my horizons on elephant conservation and welfare throughout the country. While overseas on this course there is one experience that I will always remember.
The second day of our field course we awoke literally on the banks of the famous Mekong river. The economical, industrial, cultural, and political ramifications of this waterway were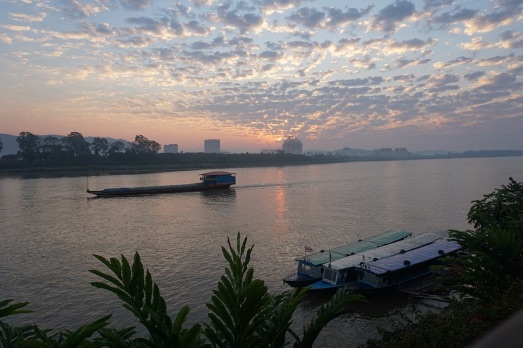 inundating my thoughts as we watched the boats get ready in their morning prep. We could tell that this was going to be an experience unlike anything we were expecting.
That expectation came true when we arrived at the Golden Triangle Asian Elephant Foundation's site outside of town. This was the first-time many students had seen an Asian elephant in person, up close, or since arriving the day prior. We were greeted by Dr. Nissa who gave us a wonderful introduction to the site and immediately started educating us on their daily operation, animal husbandry, elephant health, and the vast diversity of what a single day may look like for her.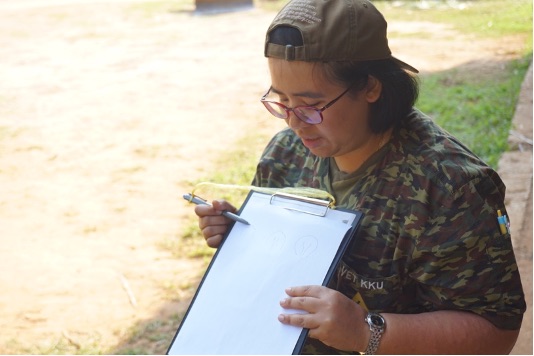 After experiencing vet checkups, husbandry training, elephant baths and behavioral observations we strolled past a free standing covered area that the elephants could frequent as they pleased. Dr. Plotnik patiently explained that this was the site of some of his previous experients. Casually mentioning "Remember the elephant sized mirror for MSR? It's right over there".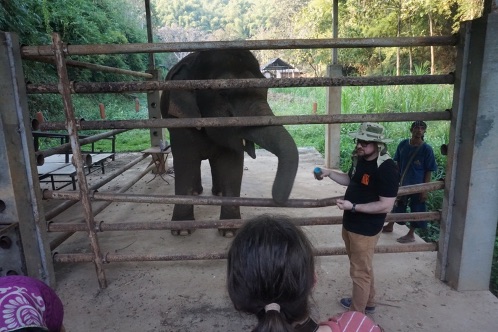 I was slightly starstruck to say the least. With a quick turn of his step he guides us up onto the platform where his team would run their cognitive experiments. Before long one of th elephants (Bleum) is infront of us and quite interested in what is happening.
Dr. Plotnik picks up materials from an old currency exchange experiment and described how training an elephant in a currency exchange trial could be used to ask a wide range of cognitive questions. Having an elephant that knows it will get a treat if it gives you a particular item is a very powerful ability. From that point one could ask if elephant could differentiate between colors, textures, odors or any variant of the token, Preferences in diet choice, or even relative quantity judgements. Researchers have even used this paradigm to analyze reciprocity and 'fairness' in other animals.
With the addition of some sunflower seeds Bleum is more than eager to be put to the test. She immediately recieves the token from Dr. Plotnik, moves to the other side of the room, and deposits it into my waiting hand. Dr. Nissa emphatically rewards Bleum with a handfull of sunflower seeds, oddly reminiscent of Dr. Plotnik's quantity study. Over the course of multiple trials I was able to hand over different amounts of sunflower seeds to Bleum, I'm sure she was able to distinguish the quantity of seeds in my hand even though I couldn't. After multiple successful trials we unfortunatly had to continue on to our next destination.
For the rest of the day, week, and course, I wasn't able to stop thinking about that experience on the previous research site and what other possible questions could we ask the elephants. Could the setup be used to ask other cognitive questions? What comparative research questions could be adapted to this unique setup. I still find myself pondering different setups, questions, and apparatuses that could be rolled out for similar purposes. In this time of uncertainty we may not be able to physically travel back to ask these questions, although I will be preparing for when we can. Rest assured that when we are able to close this chapter of social distancing, I will post here regarding what questions we'll be activly asking of elephants.