Blog Post by Sarah Jacobson
For three weeks in January, I escaped the New York winter and traveled to hot and humid Thailand to start our project observing wild elephants in and around Salakpra Wildlife Sanctuary. Through a mixture of hours in the forest, drives through agricultural areas, and visits to shopping malls, I learned a lot about the logistics involved in setting up a new field site. After this trip it feels like our project is really ready to begin, or using one of my new favorite words in Thai, it is riiap raawy!
Our team for this trip consisted of me, Dr. Plotnik, our two Thai research assistants Ju and Wow, and a researcher we were consulting who had experience in Salakpra and the surrounding agricultural areas, Alex Godfrey. The five of us piled into our (somewhat) trusty research vehicle, which we named E' Som (Thai for her bright orange color), to travel to different areas in Kanchanaburi. We met with government officials to retrieve our research permits, the chief of Salakpra to discuss the details of our plans, and local collaborators to determine which areas we would investigate as potential observation sites. After viewing many rentals with questionable décor, we found a house to serve as our research station and gathered all the supplies necessary for the nights we would stay in the forest.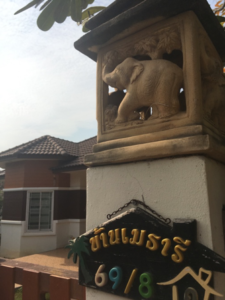 Our first trip into Salakpra was to Khao Seau, a ranger station 10 km into the forest where we planned to investigate the nearby artificial watering holes as potential observation locations. Trips through the forest consisted of our team and several rangers crowded into a pickup truck, bouncing past thick bamboo and avoiding branches across the road. It was exhilarating to listen to the sounds of the forest and snippets of conversation in Thai that blew past me as we headed to each destination. At the largest watering hole near the ranger station, we checked out the view from a permanent observation tower that had been constructed by the sanctuary officials.  As we were looking out on the water, a bull elephant ambled into sight at the edge of the watering hole. I was very excited to see my first wild Asian elephant and watch him drink, wade into the water, and eat some of the mineral-rich clay at the bottom of the pond. I was granted the honor of naming the first identified elephant of our project and decided to dub him after the wise wizard he resembled, Albus. That night we staked out the observation tower again to test out our low light and night vision camera equipment for spotting elephants. Everyone's ears were perked to the sounds of breaking bamboo and the intermittent chirps and trumpets of elephants in the distance. We were lucky enough to see two more lone bulls that night, illuminated by the half moon and our infrared flashlights. However, the family groups we could hear in the distance didn't grace us with their presence.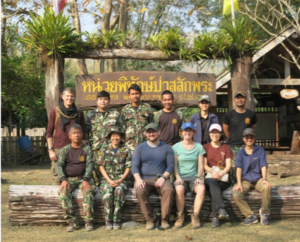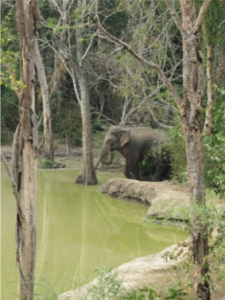 In total we traveled to four different ranger stations over the course of a week and met rangers who all had stories of the elephants that came near to their stations – one elephant had even broken into a refrigerator for jackfruit! We also explored the edges of the protected area in the agricultural communities where farmers described fending off elephants who come to snack on their sugar cane, corn and cassava. We saw many of their deterrent strategies including electric fences, trip wires for fireworks, trenches, electric lights, and firecrackers to throw and scare elephants away. We also observed some of the destruction these farmers were trying to avoid, both of their crops and of some buildings. A few of the communities had already built bamboo watchtowers where people were stationed all night so they could drive any marauding elephants away. We spent one night in a tower like this waiting in anticipation of elephants, scanning the sugarcane field for signs of disturbance and listening for breaking branches. All we ended up listening to that night was the crackling of the nearby harvested crops burning, a technique farmers use in the area to recycle nutrients for the next planting. The tall sugarcane around us ready to be harvested remained unscathed for the night.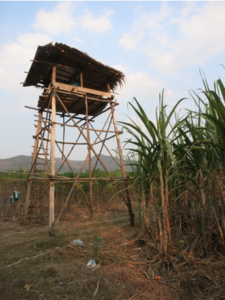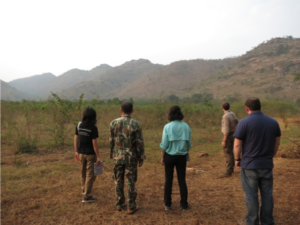 In addition to laying the groundwork for our behavioral observation research, we also prepared the first aspect of our cognition research by designing the puzzle boxes that we would set up in Salakpra for the elephants. Our team of biologists and psychologists spent several days in the office flexing our latent engineering skills, attempting to build a model of the box from my initial brainstorms and drawings. After many discussions and revisions of its mechanics, we completed a partially functional 3D model out of plastic board, which I thought was pretty impressive. The next step was to show a local metal engineer our handiwork and see if they would be able to build it to be elephant-proof. Unfortunately, I had to depart before we could complete this challenge, but I look forward to seeing the final product in the weeks to come!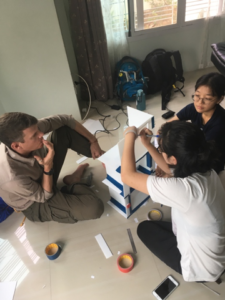 Our tour of areas in and around Salakpra provided us with information about where we wanted to build new observation towers, connected our team with the communities we would be working with, and helped us develop protocols for observing the elephants. The only injury our team suffered was E' Som's bamboo skewered flat tire, a pretty good start overall for a field project! The project's scope and methodology really took form, making it very hard for me to leave the team in Thailand and return to the US to start my next semester of classes. Nonetheless, I feel fortunate to have been there to get everything riiap raawy and I'm excited for my next return to the field in June!